What is G Suite?
G Suite is a range of products provided by Google to schools.
When a school uses G Suite a number of programmes become available:
Gmail
Google Drive (Cloud storage for all your documents)
Google Docs (Like Microsoft Word)
Google Sheets (Like Microsoft Excel)
Google Slides (Like Powerpoint)
Google Classroom (allows teachers to give work and tasks to students)
Google Calendar
Google Meet (allows for online meetings)
---
Gmail
If you are using a phone or tablet, add the Gmail app to your phone and add your details there.
A quick note. To open different Google services, use the Dock at the top right of the screen. Click on the 9 dots and a menu will drop down for you, scroll to the service you want and click.
---
Google Drive

Google Drive is your cloud storage solution. Using Drive to store your documents means you don't need to worry about losing your usb memory stick.
To open Drive, go to drive.google.com
Drive is also available as an app for Android and iOS
Follow these instructions for more details on how to use Drive
Click here for a short video on the basics of Drive
---
Docs
Docs is the Google version of Microsoft Word or Apple Pages.
Docs is accessed via the Dock at the top right of the screen. It is also available as an app on Android or iOS
There are 2 ways to open a new doc.
Start by clicking on the dock at the top right of your screen.
Click on the Docs icon
From this screen, click the '+Blank' icon at the top
This will open a new doc. If you click in the 'unnamed doc' box at the top you can give the doc a name.
Experiment with fonts, layout and headings to create the example below: (Note, Docs will autosave to Google Drive while you are typing)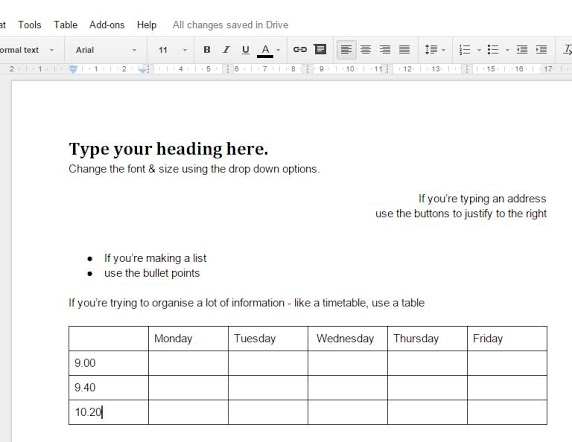 For more information on working with Google Docs Click Here
Click here for a short video on how to use Google Docs
Click Here to learn how to share a Google Doc
---
Classroom
Many teachers are using Google Classroom for Distance Learning at the moment.
Classroom is accessed by using the Dock at the top right of the screen. It is also available as an app for Android and iOS
The most common problem signing in is if your computer has more than one gmail account active, so the wrong account tries to get into classroom.
To avoid that:
If you have lost the code to join your class, please email your teacher for a replacement code.
Working Together
If you want to work with your classmates there are two very handy ways of doing it.
Google Meet is a conferencing tool that allows two or more people to video conference. One person at a time can present their screen, so they can share work in progress.
Google Hangouts can do video calls, but you can also use the text function to create an online group where you can chat together, and send ideas back and forth.